YouTube Video Summarizer
with ChatGPT
Get concise YouTube summaries and key points with ChatGPT instantly. Save time and learn quickly.
Summaries generated

20,000+

Mind Maps generated

5,000+

Users

3,000+
A better YouTube Summarizer
Master YouTube Videos with AI Summaries
Quickly and easily get the YouTube video summary without having to watch the whole thing.
Save Time with Quick Video Summaries
The Outline mode of our AI YouTube summarizer generates a brief summary of the YouTube video, along with key highlights and detailed summaries.
Designed for users who want a quick overview of the video's main points, it's the perfect tool to efficiently grasp the essence of a video and save valuable time.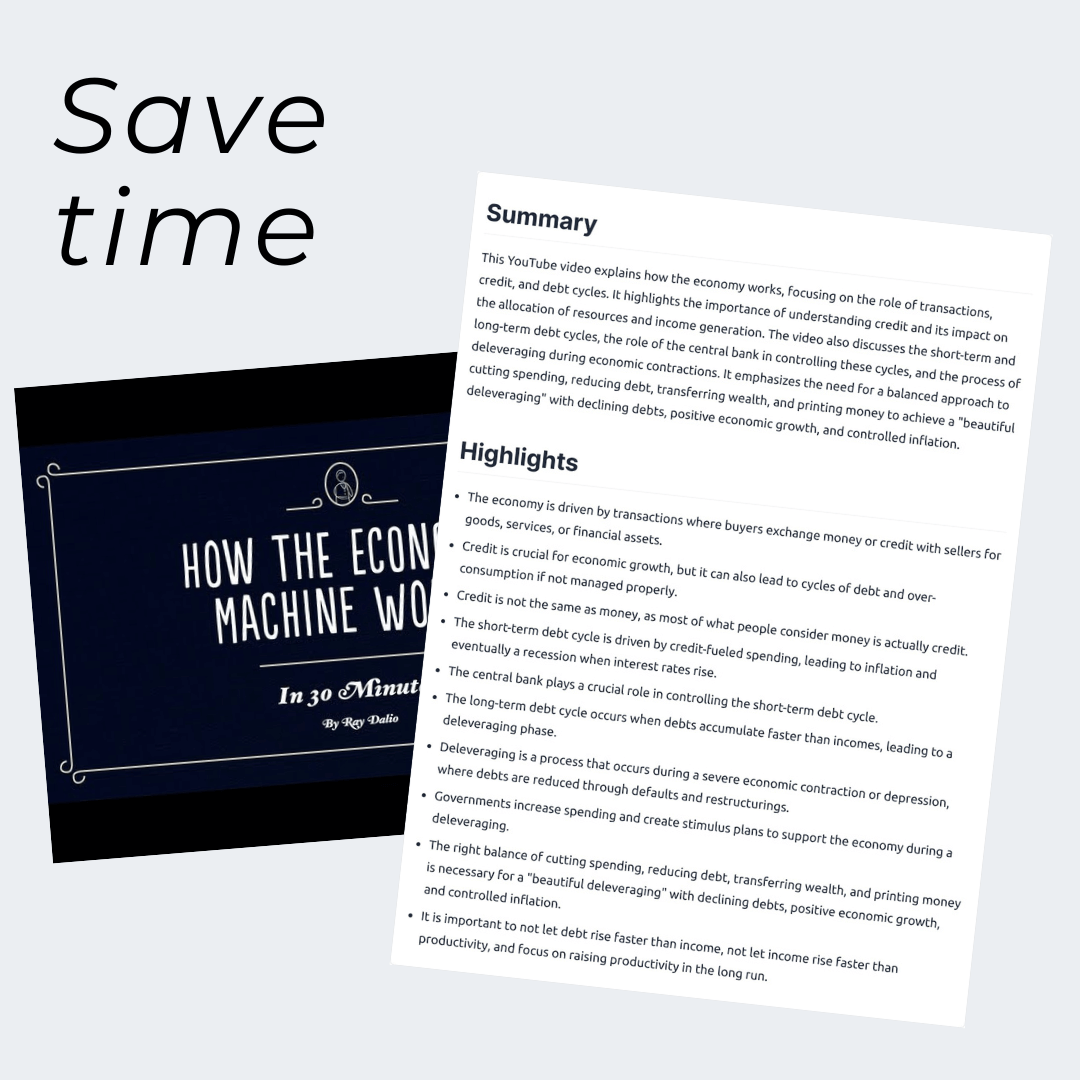 Enhance Understanding with Visual Mind Maps
Our YouTube video summarizer offers a Mind Map feature that creates a visual representation of the video summary in a hierarchical view.
Ideal for users who prefer visual aids, this feature helps you visualize the key points of the video and understand how they are interconnected.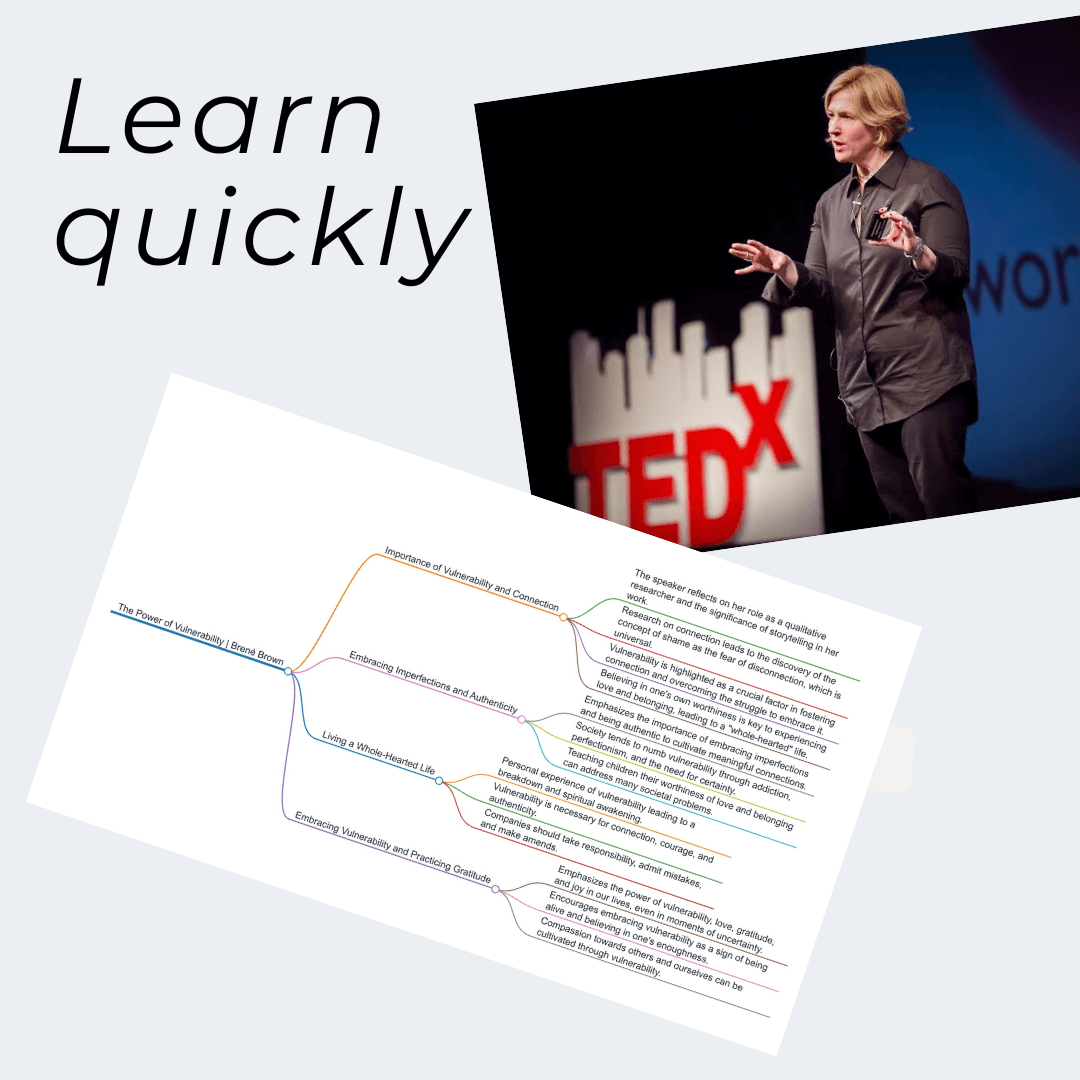 Explore Video Content with Precision
Our YouTube video summarizer's Segment Mode offers detailed summaries that are divided into timestamped segments. These segments align with YouTube chapters, key moments, or fixed intervals, providing a complete and thorough understanding of the video's content.
Particularly useful for research purposes or when you need to delve deeper into specific sections of a video.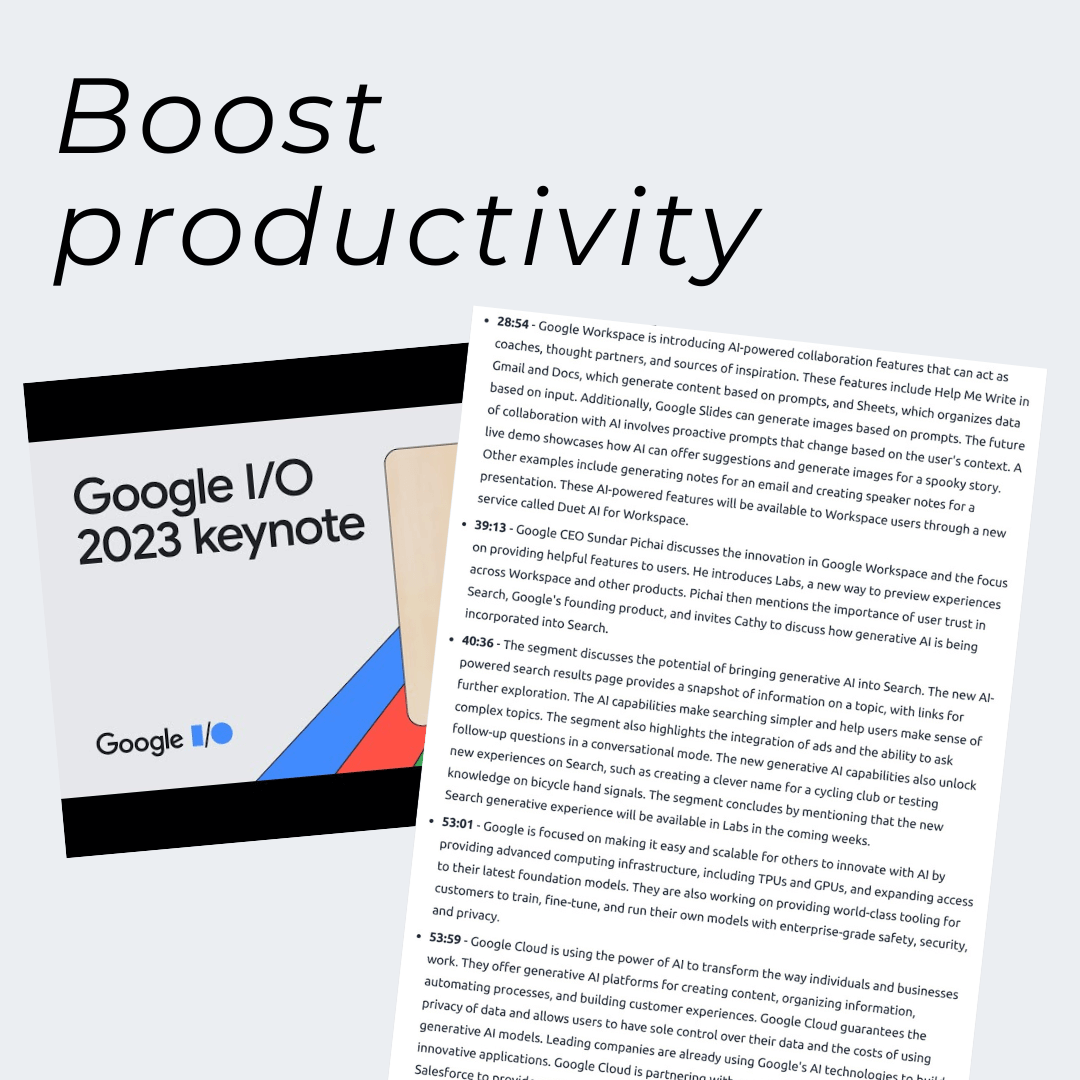 Features
The Ultimate YouTube Summarizer
Boost your productivity with our YouTube Summary tool.
ChatGPT YouTube Summary
Generate YouTube video summaries and highlights using ChatGPT
Outline Mode
Quickly get the gist of a YouTube video with a brief summary along with key highlights and detailed summaries
Mind Map
Visualize the key points of a YouTube video and see how they are connected in a hierarchical view
Segment Mode
Get a detailed understanding of a YouTube video based on chapters, key moments or fixed interval segments
Long Video Summary
Summarize YouTube videos of any length
Multi-Language Support
Summarize YouTube videos in your preferred language
Summary Export
Export the summary to various formats making it easy to share and use
Summary History
Keep track of your summaries and easily access them in the future
Summary Share
Easily share the summary to collaborate and communicate with others
Unlock the power of YouTube Video Summarizer with a free registration!
What Our Customers Are Saying
Trusted by students, researchers, marketers, and content writers all over the world.
YTSummary has become an integral part of my study routine. It saves me hours of time by providing accurate video summaries that help me grasp concepts quickly. Highly recommend!

As a busy professional, staying up-to-date with industry trends is crucial. This tool has been a game-changer for me. It allows me to quickly summarize and digest relevant YouTube videos, keeping me informed and ahead of the curve.

Mark Davis

Marketing Manager

This summary tool has transformed the way I conduct research. Being able to summarize lengthy YouTube videos into concise summaries has made my work incredibly efficient and streamlined. A must-have tool for any researcher.

This YouTube summarizer has become an indispensable tool. It allows me to analyze and summarize my competitors' videos, giving me insights into their strategies and helping me improve my own content.

Your tool has given me the ability to quickly extract valuable information from YouTube videos for my writing projects. It's like having a virtual research assistant!

Olivia Adams

Content Writer

Now I can summarize videos in different languages, expanding my horizons and gaining insights from global perspectives.

Carlos Gomez

International Business Consultant
Frequently Asked Questions
If you have anything else you want to ask, email our support team.
What can YTSummary do for me?

You can get a concise summary outline, a visually engaging summary mind map, or precisely timestamped segment summaries using our YouTube Summarizer. You can also download the summary for offline access or share it with others.
How to use YTSummary?

Choose between two convenient methods to utilize our service:

1. Easily access our website and paste the YouTube video link into our summarizer input box for instant summaries.
2. Enhance your experience by using our YouTube Summarizer Chrome extension while watching YouTube videos.
Do you offer a free plan?

Yes, we offer a free plan with 10 credits included. You can sign up and try our YouTube Summarizer before buying.
What payment methods do you accept?

We accept all major credit cards, debit cards, and PayPal.
How to upgrade my plan?

To upgrade your plan, please note that the process currently requires manual intervention from our side. To initiate the upgrade, kindly reach out to our support team and provide them with the details of your desired plan. They will assist you in upgrading to the plan that best fits your needs.
Can I cancel my subscription?

You can cancel your subscription at any time. You can do this from your Dashboard subscription page.